1. New Zeitronix Data Logger (ZDL) v3.1.2 Released (Download Page)
Fulfilling the the needs of previous and current customers.
Wideband Air/Fuel Ratio and Engine Datalogging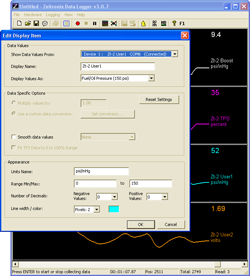 has never been easier!
Support for version 2 Zeitronix Data Logger files
Previous version ZDL log files (v2 log files with the extension ".zto") can now be opened by the current version of the Zeitronix Data Logger. To open theses files simply use "File" -> "Open" or drag and drop the file into the program.

Improved Support for small screen laptops
The Zeitronix Data Logger will automatically detect Zeitronix Devices attached to the computer. In cases where a custom setup is needed press 'S' for hardware setup options. A small minus sign on the left has been added to allow the connections dialog to shrink down fitting the full dialog contents on smaller screens. (Added in v3.1.1)

Continued Support on older laptops
We continue to test and ensure compatibility and speed on older hardware to allowing tuning and logging no matter what hardware is available for the job.

Zt-3 Linear Wideband Output
An extended range is now allowed in the Zt-3 linear wideband output setup for easier matching of the AFR output curve to 3rd party systems.