1. New Zeitronix Data Logger (ZDL) v3.0.7 Released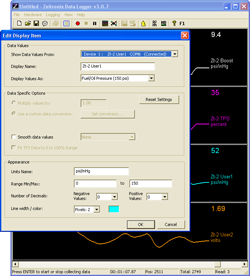 Wideband Air/Fuel Ratio and Engine Datalogging
has never been easier!
Automatic Zt-2 Wideband Device Detection
Connecting one more Zt-2's is now as simple as plugging in to your USB to serial adapter or serial communication port. Changing USB ports? No problem! The move will be automatically detected and logging will continue, no setup required.

Scaling/Averaging and Data Conversion
User1 and User2 analog inputs can measure various sensors outputting 0 to 5 volt signals. With the new Zeitronix Data Logger interface these inputs can be easily configured to convert and display this data according to the sensor being used. Zeitronix MAP or gauge pressure sensors are supported on the User1 input while the User2 input will support these sensors plus the Zeitronix Air and Fluid temperature sensors. The User2 input will also support the new 1/8th NPT Fluid Temperature Sensor.

Custom Data Conversions
User1 and User2 voltage values can be custom configured to fit additional sensors. Pressure sensors, mass air flow sensors or other 0 to 5 volt range sensors can be custom configured to read the correct pressure or mass air flow values based on your sensors specifications.

TPS Fit Data to 0 to 100% Range
Some TPS (Throttle Position Sensors) do not use the full 0 to 5 volt voltage range when reporting position data. The "Scale TPS data to 0 to 100% Range" option will now make these sensor show as 0 to 100%. If you have noticed your TPS readings only going up to 90% or only down to 15% this option will expand this display to 0 to 100%. To initially register the full sensor range fully depress the throttle before your data logging run. This can be done with the power to the Zt-2 and vehicle on but without the engine running.

Dashboard View
The Dashboard View has been updated to redraw faster for better real-time display of data.

Check for a newer ZDL software version
We are constantly updating and improving the software to make the Zeitronix system and software the best one available for the money. Stay up to date easily with this new Help menu option. A message box will let you know if your currently have the latest version. If a newer version of the program is available the Zeitronix software download page will be displayed.


Toolbar Items and Shortcut Keys
Various new toolbar buttons and shortcut keys have been added. Check with the "Help" menu item "Zeitronix Data Logger Quick Help" for a overview of the most commonly used shortcuts.

New Preferences Options
Including resetting the screen Dashboard and Plot view displays and turning off auto detection of Zeitronix devices.
A full list of changes is available on the ZDL 3.0 change log page.