Zeitronix nDash Touch Screen Display
Full color, OBDII compatible Touch Screen Display for the Zt-2 and Zt-3 Wideband AFR Meters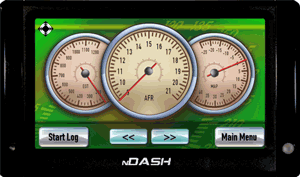 Zeitronix nDash display is Preconfigured for easy Plug and Play use with the Zt-2, Zt-3 or combination of both.
Display and data log AFR, RPM, EGT, Vacuum/Boost, TPS, and configurable User Inputs from one or two Zt-2s
Run a Dual Zt-2 or Zt-3 configuration for left and right cylinder bank AFR values!
4.4" Touch-Screen offers 480x272 resolution using TFT LCD technology.
24-bit full color display with contrast ratio of 350:1
Dimensions are 5" x 3" x 0.75", weight is only 0.5 lbs, (127mm x 77mm x 19mm, 275 grams)
Full OBDII support for display of parameters such as Mass Air Flow, Spark Advance, Coolant Temperature, and many more! (OBDII is not required for use with the Zt-2 and Zt-3.)
Generic OBDII, Enhanced Ford, Chrysler and GM drivers.
For additional two channels nDash analog inputs are mapped to Zeitronix sensors.
Data logging support onto removable memory card -- no laptop or PDA required.
Auto Adjusting backlight, night mode, and low power standby.
Calculate Horsepower, Torque, 0 to 60 Performance, MPG and set configurable trip counters.
Diagnose and clear check engine light error codes.
OBDII and Plug and Play Zeitronix Zt-2 cables included.
N-Dash Zt-2 license included
Simple and secure windshield-mounted display.
Examples of Configurable Screens
Full color analog gauges

Different 'skins' allow you to change the look and style of your display.

Mix and Match
OBDII and Zt-2 data.

Graph Zt-2 data points in real time: Wideband AFR-Lambda, RPM, TPS, EGT, Vacuum-Boost, Oil Pressure, Fuel Pressure, Oil Temperature, Water Temperature, Air Intake Temperature and more!

Many other page layouts and styles available.
Data Logging
Log Zt-2, Zt-3 data and OBDII data on optional MMC/SD memory cards (up to 4GB in size).
Supports Full OBDII for 1996 and newer vehicles (Zt-2 parameters from any vehicle)
Log and View up to 24 parameters at once for hours at a time
Zt-2 to N-Dash connector cable included
Connect two to log left and right cylinder banks in our Dual Zt-2 configuration
Example Lean AFR nDash log file opened in the Zeitronix Data Logger PC Software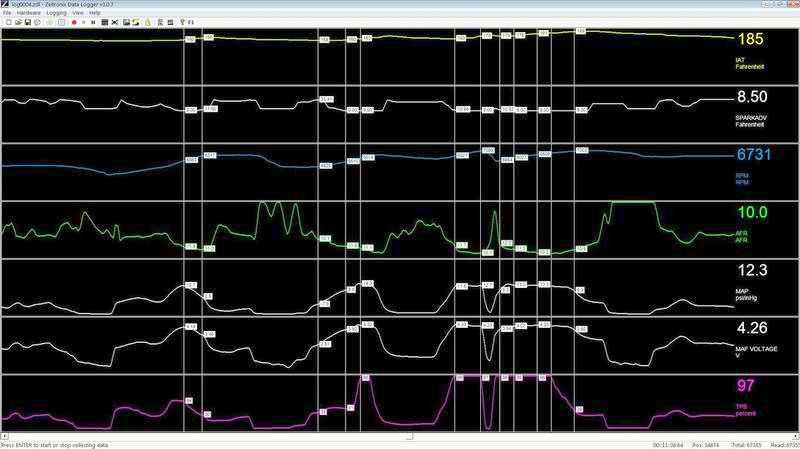 Zeitronix nDash Packages
| | | |
| --- | --- | --- |
| Zt-2 + nDash Bundle | Complete Zeitronix Data logging System with nDash display plus connector cable. The Display is preconfigured with Zeitronix driver and screens. | Buy Now! |
| nDash Display | Add a N-Dash to your Zt-2 system, includes nDash™ and cable required to connect to the Zt-2. The Display is preconfigured with Zeitronix driver and screens. | Buy Now! |
Zeitronix nDash Installation