Zeitronix-DashDAQ Installation
Kit Components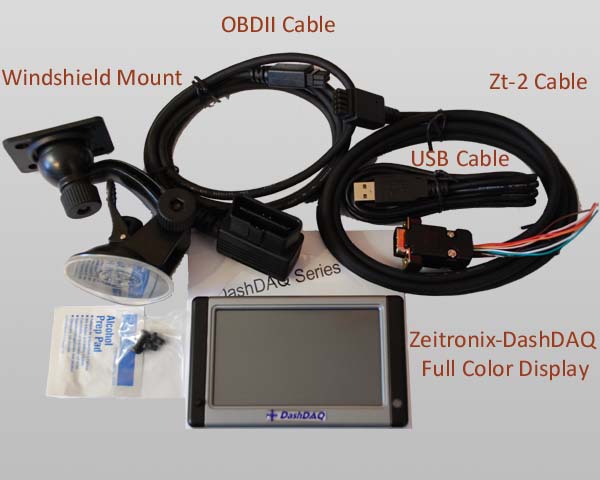 Zeitronix-DashDAQ Display
Full color, touch screen display.
Windshield Mount
Sticks to your windshield using a suction cup and lever. The lever increases the suction when mounting and then functions as a quick release when removing the display. Direction and angles are fully adjustable.
Zt-2 Cable
Connects to the Zt-2 Serial Data Cable and to back of DashDAQ Display.
The Orange and Brown wiring allow for a Second Zt-2 to be connected! (Dual-Zt-2 connector available separately)
OBDII Cable
Connect to your vehicles OBDII port. Both the Zt-2 cable and OBDII cable can be used simultaneously.
USB Cable
Use this to connect the Zeitronix-DashDAQ display to a computer for software updates and new features.
Zeitronix-DashDAQ Display Installation Details
Connect the DashDAQ display to the windshield mount using the included hardware.
If applicable connect the OBDII connector from the OBDII port to the back of the DashDAQ display. The DashDAQ display will power up at this point.
Connect the Zt-2 Cable from the Zt-2 serial cable to the back of the DashDAQ display.
If no OBDII connector is being used connect the red and black wires to power (+12v) and ground respectively to power the display. Do not make this connection when the OBDII cable is in use.
If adding a 2nd Zt-2 connect the "Dual-Zt-2" connector to the 2nd Zt-2's serial data cable. Connect the orange and brown wires to the orange and brown wires of the Zt-2 cable shown above.
Mount the DashDAQ display on the windshield pulling down the lever to secure it. Raise this lever to release the display from the windshield.
Zeitronix-DashDAQ Display RPM readout
If the Zeitronix RPM reading is too high or too low please set the "Number of engine cylinders" parameter on the DashDAQ Display by following the RPM question directions in the DashDAQ FAQ.
Zeitronix-DashDAQ Related Downloads