Ethanol Fuels and E-85
Ethanol Content Analyzer ($199) - Display fuel ethanol content percentage and fuel temperature. Analog outputs for engine management or datalogging use.
Blue and Red digital readouts available.

NEW!!!
Ethanol Flex Fuel sensor now available only $359! Looking for a flex fuel sensor to complete your conversion to E-85? We have the right flex fuel sensor for the right price. Use this sensor with the Zeitronix Ethanol Content Analyzer (above) for readouts of ethanol fuel concentrations and fuel temperature readings.

8 foot wiring and connector for flex fuel sensors for easy flex fuel sensor installation with the Zeitronix Ethanol Content Analyzer.



Information about the ECA and Flex Fuel sensors can be found online at the Zeitronix ECA product page. See a video of the ECA in action.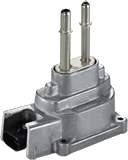 Flex Fuel sensor and Ethanol Content Analyzer Installation online at EvolutionM.net.
Zeitronix-DashDAQ Series-II Touch Screen Display and Datalogger
NEW!!! Optional GPS support with NAVTEQ maps for US and Canada. Supports points of interest, turn by turn directions, and voice guidance!


Full OBDII support for display of parameters such as Mass Air Flow, Spark Advance, Coolant Temperature, and many more!

Coming Soon - Firmware Upgrade supporting Mitsubishi knock sensor output.

Check out the MOD Day 09 Dyno-run using the Zeitronix Zt-2 + DashDAQ display logging Knock Sensor data, AFR, Boost, EGT, RPM, and timing advance data on the DashDAQ.

Preconfigured for easy Plug and Play use with the Zt-2
OBDII and Plug and Play Zeitronix Zt-2 cables included