Zeitronix Z-Chip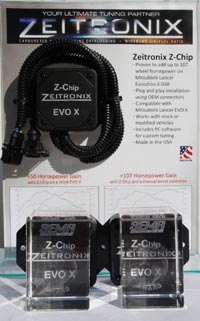 Introducing the multiple award winning Zeitronix Z-Chip for the Mitsubishi Lancer Evolution X. This plug and play device installs in seconds using OEM connectors. The Zeitronix Z-Chip improves the stock factory tune by up to 50 wheel horsepower and up to 107 wheel horsepower for vehicles equipped with a manual boost controller
Z-Chip Specifications:
Proven to add up to 107 wheel horsepower on Mitsubishi Lancer Evolution X GSR
Easy plug and play installation using OEM connectors
No cutting of wires required!
Compatible with Mitsubishi Lancer Evolution X
Works with stock or modified vehicles
Made in the USA

The Zeitronix Z-Chip Kit includes:
Z-Chip and wiring harness with OEM connectors
Serial Cable for connecting with PC software.
Software for customized Z-Chip tuning is available on the Zeitronix Z-Chip download page.

Forums:
See what else Zeitronix Z-Chip customers are saying at the Z-Chip forums.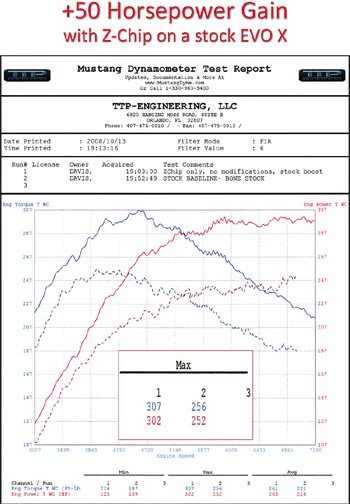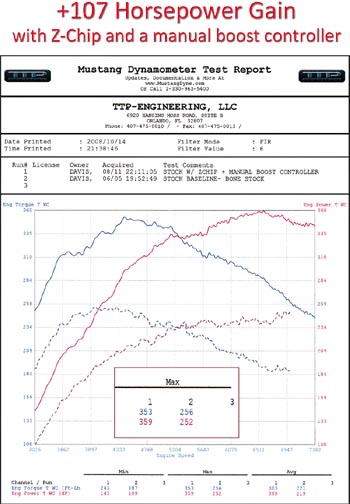 Installation:
See this posting in the Z-Chip forums for a visual walk through of installation. The Z-Chip easily installs in a few minutes and can be removed with no visible traces left behind.


Ready to Purchase?

For individual 'Mapped' Z-Chip Domestic (U.S.) orders:
Contact TTP Engineering at:
Email: sales@ttp-engineering.com
Phone: (407) 475 0010

For International and resale orders:
Contact Zeitronix at:
Email: sales@zeitronix.com
Phone: (310) 833 3450 [M-F 10am - 4pm Pacific Time]