Wide Band Air/Fuel Ratio Meter (Out of Stock / Discontinued Product)
No matter if you have a stand alone engine management system or a piggy back fuel control, the Wide Band Air Fuel Ratio Meter is a must for a serious tuner! The slightest adjustment of the Air/Fuel mixture is being shown on the Wide Band display. Finally you can tune for more power, closer to the edge, precisely monitoring Air/Fuel ratio through the entire RPM and throttle position ranges.
The Wide Band Controller and Display is so small, it fits on a palm of your hand. It's a size of a deck of cards!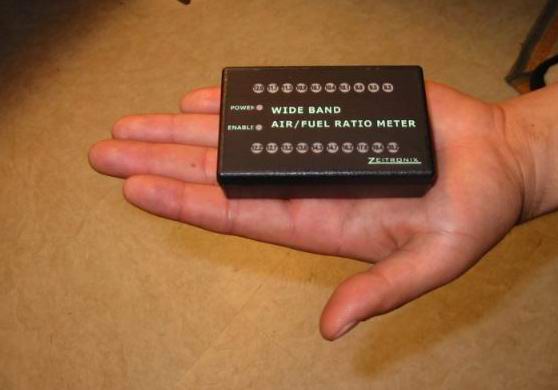 Quick summary of the Wide Band Air Fuel Ratio Meter::
Integrated Air/Fuel ratio display

Operating Voltage 11.4V to 16V

Precise sensor temperature control

Reverse polarity protection

Integrated fuse

AFR 9.3/1 to 20.2/1

Analog 0-5V Wide Band output to your favorite stand alone engine management system or a datalogger

Flexible Plug n Play Sensor Harness

with small, easy to route through the fire wall connector

Included W

ide Band Oxygen Sensor

Compact design (dimensions 3.6" x 2.2" x 1")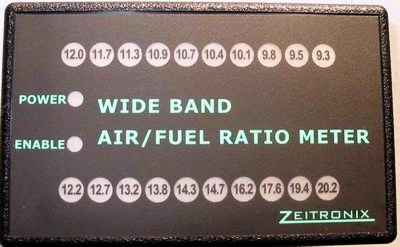 The display contains 20 multi color LEDs and back lighted AFR ratio numbers. There is 15 LEDs for the rich side (performance tuning) and 5 for the lean side. Stoich 14.7:1 air/fuel ratiois back lighted by a cool blue LED which you see at the closed loop ECU operation (most of the time). Also, for a quick identification, there are different colors dedicated to different AFR ranges. These are extra bright LEDs very well visible in a daylight.
During many tuning sessions we found out that fast changing numbers are relatively hard to read comparing to the high resolution bar display. This is not typical .90 to .94 narrow band O2 read out and the AFR numbers are changing very rapidly. Fast response time of the bar display allows you to notice even the shortest rich on lean mixture spikes practically invisible on a numeric display.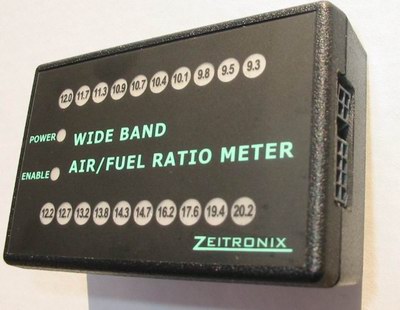 Items included with each order:
Wide Band Controller with integrated display

5 wire Wide Band Oxygen Sensor

Sensor Harness (10 feet length)

Power Harness (3 feet length)

Oxygen Sensor Bung

Instructions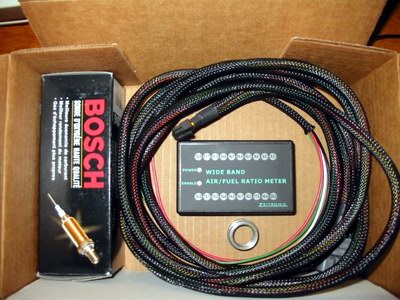 Rally Spec Wideband Output Voltage vs. AFR table:
| | | | | | | | | | | | | | | |
| --- | --- | --- | --- | --- | --- | --- | --- | --- | --- | --- | --- | --- | --- | --- |
| V | 1.56 | 1.71 | 1.87 | 2.02 | 2.18 | 2.34 | 2.49 | 2.65 | 2.80 | 2.96 | 3 | 3.12 | 3.27 | 3.43 |
| AFR | 9.78 | 10.17 | 10.56 | 10.92 | 11.38 | 11.96 | 12.51 | 13.1 | 13.75 | 14.52 | 14.7 | 15.76 | 17.63 | 20.21 |